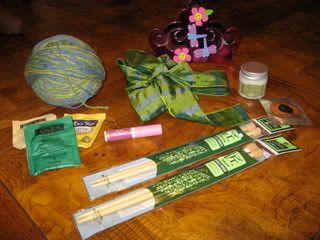 Actually, this is take one-the ball of yarn I sent to my MDC swap partner. She was kind enough to take pictures for me, as I forgot, as usual. I would also like to point out that her pictures are far superior to those I would have taken myself, so it's best for all that we waited and let her do it.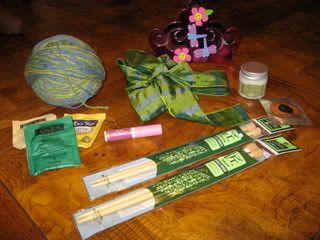 The ball, all wrapped up. The yarn is 3 ply wool from Little Turtle Knits, in the After The Rain colorway. That is actually the second skein that I ordered, it's twin was used in the very first custom soaker I ever knit. Memories...................
My partner was actually a fairly new knitter, so I sent her two needles that she needed to add to her collection. The stickers Ellie picked out are actually displayed on the crown my partner's daughter was making when the yarn arrived. I also added some tea, some lip balm, some lotion, and a few yards of ribbon, as my partner likes to make bows for her daughter's hair. The biggest problem in the whole process was the wrapping. As the proud owner of a ball winder and swift, I hadn't hand wound a ball in recent memory, and I have no patience for tangled skeins. After trying to make the ball from the skein lying loose on my couch, I changed tactics. The skein went on the winder, was made into a cake, then I wrapped the goods from a more civililzed direction.
I'm now off to spend some time working on a pair of longies for a customer. The simple acts of swatching and casting on were giving me fits last night (note to self-experimental techniques are best left for personal knitting, and best explored before 11pm). At about midnight I decided I was far to stupid to deserve to ever knit again, but daylight and coffee have granted me perspective and the courage to knit again.