We are on day 8 of the "GREAT BLIZZARD OF 2007" (insert music of impending doom, ala KING 5 news), and things around here are getting a dicey. If I wanted snow on the ground, I'd move. Canada has been suggested if I decide to do it, as well as suggestions of warmer climates. I'd rather just have our rain back. It's snowing right now, although the tv insists it's not.
Al Gore is right people. You should listen.
We have been working on distracting ourselves around here while trapped indoors. A few diversions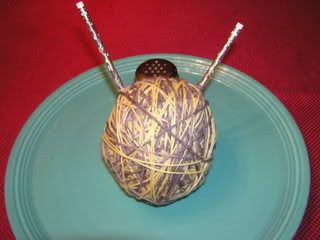 This is the Magic Yarn ball, from a swap on MDC. I made one up and sent it to another knitter (forgot the pictures. Darn). This is mine. The outer yarn is a fingering weight wool that will probably be footie socks to match my clogs, as the browns are pretty darn close. Excuse the shaker behind, it needed some propping for effect.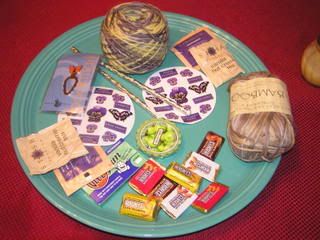 The treasures unwrapped. Courtney loved this part. Note the gorgeous skein of bamboo yarn, tucked in the very center. Dave thought I had lost it when I started dancing around the kitchen blabbing about bamboo. You see, I insisted that I needed the Knitpicks Options needle set for Christmas because I hate bamboo. It's different when it's yarn, then I love bamboo. He will never understand me.
Things aren't all perfect, though. Look at this.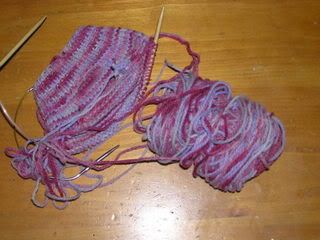 A teeny tiny newborn soaker. It was coming together fast, and perfectly. Then I somehow lost my ability to count to 17. I knit the entire lower back portion, wondering all the while why it was so tiny. Worrying that by the time it was long enough, it would be way to narrow to cover a diaper. If I had any brain in my head, I would have stopped at any number of times in the process and counted. But no. The frogging had to happen after I was halfway through the front flap. By that point, the skein I was working off of was really floppy and starting to get tangled,and I was working with 3 working yarns at the same time. This picture was taken after frogging a few rows, and finally admitting it was really hosed up and as tangled as an octopus. Instead of yelling, screaming, and saying bad words, I sat it down, took a picture, and let it rest for 24 hours. Things are better now.
And finally, a bit of evidence of what my children do to each other when trapped indoors for too long.